Dear friends and family
I'm writing this on the sad day that Hillary Clinton lost the election.  Sam and I stayed up all night here until Donald Trump had 264 votes and then couldn't bear it any longer.  After sleeping in till about 2pm we tried console ourselves with reading op eds from the Guardian and the New York Times.  It feels a bit odd being here with no day to day contact with American citizens.  Like a lot of people probably we were holed up in our pad with wine pizza and snacks hoping to have a night of relief from the insanity of the election season and some sense of moving on positively from it. No joy there.
Well, in the hope of a temporary distraction for our friends and readers here is what we've been up to since leaving Paris on November 1st.  After a pleasant 3 hour high speed train ride we arrived in Amsterdam, city of many freedoms and delights.  We had a feeling that we would enjoy it, but weren't quite prepared for how much we would love it. I admit that the fact that most people speak some English does help….takes away a slight barrier at the beginning of interactions.  Our apartment is up about 56 very steep steps of a typical narrow Dutch house. Just picture us lugging suitcase a large backpack and several other bags up a flight of shallow felt carpeted stairs of between 60-70 degrees incline and not knowing quite when it's going to end! Well, we only had to do that once!
It's about twice the size of our studio in Paris and actually has a separate bedroom.  It's very light, with a very comfy couch, kitchen area with Nespresso machine (I'm not sure what all the fuss is about) and a TV that works (important only because of the election).   Part of our first week here was taken up with dealing with time consuming computer meltdowns (yes, again) but we made the acquaintance of a quirky Irishman who fled Britain after Margaret Thatcher came to power, and owns a small computer repair store and who found us a workable solution.
We're in De Pijp, this funky neighborhood about 15 minutes from the Museum area with the Van Gogh Museum and the Rijksmuseum.  It's right near to this 6 day outdoor market on Albert Cuypstraat which has everything you could imagine and more. Saturday is an especially fun day at the market. Last Saturday we sampled freshly roasted nuts, hummus, olives, stroopwaffles (warm from the grill with the warm caramel center spilling out) among other things. We also bought bread from a local bakery and had ourselves a nice indoor picnic with some wine in the evening.
Our first day in Amsterdam got us off to a good start.  We'd read about free Wednesday lunchtime concerts at the Concertgebouw (their orchestra is definitely in the top 10 in the world and was voted number 1 in 2008). So we got there about an hour before the concert on Wednesday and got our free tickets and then waited to get in. It took place in the small concert hall. A lovely cello recital from a young man who just won a cello competition here.  After the concert we bought tickets to a concert for a week from then (tomorrow). We hadn't been to any classical concerts since leaving the US so we thought it was time. With the ticket you get free drinks prior to the concert and afterwards.  Pretty nice!
After the concert we had lunch in a little deli and then headed to a place where we could get a boat tour just by the Rijksmuseum.  It was getting a little overcast but we got a tour from Pieter, who does open boat tours for up to 12 people.  We were the only two on the tour, which was nice for us.  During the last half hour of the tour it rained on and off and we opened up umbrellas to keep our legs and backpacks dry instead of putting the roof on which would have obscured the view. Our guide said that the other boat owners he saw indicated their surprise at our stamina. We told him it was nothing like the rain we experienced at the Open at Troon, and the boat tour was really enjoyable. We got to go through some of the smaller canals that the larger boats don't get to.
One of the interesting things that Pieter told us about the Dutch is that even though most Dutch people aren't religious, a lot of them identify with "somethingism". This is how Wikipedia defines it:
Ietsism (Dutch: ietsisme (pronounced [itsˈɪsmə]) – "somethingism") is an unspecified belief in an undetermined transcendent force. It is a Dutch term for a range of beliefs held by people who, on the one hand, inwardly suspect – or indeed believe – that "there must be something undefined beyond the material and that which can be known" than we know about, but on the other hand do not necessarily accept or subscribe to the established belief system, dogma or view of the nature of a Deity offered by any particular religion.
We felt lucky to have had such an informal and pleasant tour.  Pieter also gave us his opinion on the bucket list phenomena, which he thought was pretty shallow. He has obviously observed a lot of people doing the tourist thing, and didn't agree with me that if it made them happy it was okay.  I was just trying to be diplomatic….
Apart from the aroma of Stroopwaffels and apple beignets and other fried baked delights there's something else in the air. You get a whiff of it on most streets as you pass a "coffee shop".  We went into one of these around the corner and looked at the varied menu of joints, some to mellow you out, some to wake you up…all listed in very attractively color-coordinated lettering on the menu. Well, marijuana isn't exactly legal here, but it isn't illegal either. It's tolerated as far as the consumer goes and as long as it's sold in small quantities.  Another kind of shop that is also everywhere is the "smart shop" which sells psychedelics. Apparently the owners of these shops give you advice about dosing etc almost like pharmacists.
We took a city bike tour with Mike's Bikes on Friday in order to get a better sense of the city and to try out the bike lanes of Amsterdam.  We'd been jumping out of the way of bikes already for a few days, and were slightly intimidated by the prospect, but mostly interested and excited to get off our feet and onto one of the sturdy bikes that most people ride here. We'd already seen how the Dutch transport their kids from an early age on their bikes (mostly a variant of the Dutch roadster) on child seats in front or back or both or in bikes with a wagon like contraption on the front so their kids can sit inside. There are even ways for them to cover up their kids from the very frequent rain showers.  The Dutch don't wear bike helmets, and we made a decision to go along with this custom after reading extensively about cycling in the Netherlands, even though anywhere else I would wear one, and have been known to go on about the necessity which I firmly uphold anywhere else. They have somewhere from 1-5 bike related fatalities per year in a city where there are a reported 500,00 bikes on the road every day.  Our dutch tour guide told us that the canals are far more dangerous in terms of accidents. The Dutch have grown up riding bikes, and the laws really protect cyclists from automobiles.  Most of those driving a car have spent years on a bicycle.  We had the experience of going around a bike lane on a roundabout yesterday, and the cars yielding to the cyclists!  Anyway, the bike tour was really fun, we got to see many of the city's neighborhoods and a few parks, and I am going to do a follow up tour of the countryside on Friday while Sam visits some of the museums.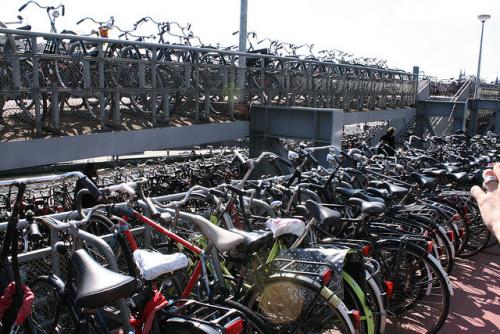 Yesterday we went to the Anne Frank House. It was a meaningful experience to have together. Getting to see the Annex was moving and we found  the exhibition to be very sensitively presented.  It was a bit strange and disconcerting to watch some people posing (there's a difference between this and having your picture taken) outside the door of the former warehouse which has the sign Anne Frank Huis on it.
Afterwards we went to one of Amsterdam's brown (bruin) cafes  "t'Smalle" which was really quiet as it was lunch time. We had visited another one over the weekend which was really packed with people. We had some of the local brews and dutch sandwiches.  The bars are traditionally  wood-paneled, cosy and this on had antique porcelain beer taps and dates back to 1780.  It was a pleasant respite.
We have one more week in Amsterdam and then will take the train down to Aix-en-Provence. For the first time we have experienced some cold weather. We are hoping it won't follow us down to Provence. Talking of cold, the local supermarket, Dirk, has a cool yogurt room with all kinds of yogurt from floor to ceiling. A yogurt lovers dream! Also, there's a cute cafe called Yogurt Barn where you can choose all kinds of combinations of yogurt fruit granola oatmeal etc.
Our Lonely Planet guide led us to the Scandinavian Embassy, where the barista persuaded me to drink her pour over black coffee because she didn't recommend pairing a latte with my breakfast choice. It was a mild Ethiopian roast, and I can't believe that I drank black coffee! More tales of coffee yogurt and street markets  should be coming your way in the next post!
This just in from the Countryside Bike Tour
Where we ended our tour!  Proost!